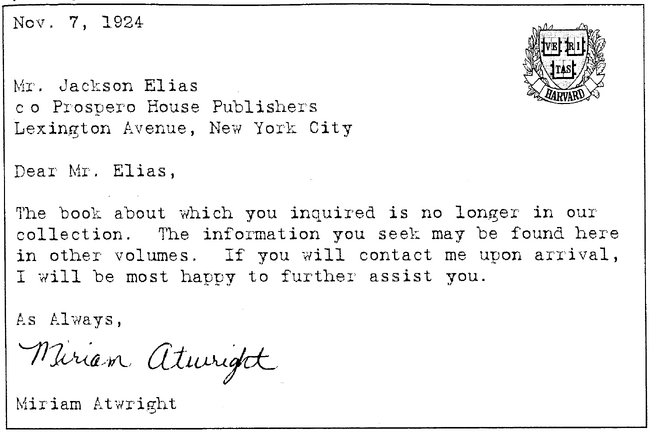 ---
Description
Edit
A typewritten letter -- without envelope, from Miriam Atwright, a Harvard University librarian, addressed to Elias in care of his publishers.
Transcript
Edit
Nov. 7, 1924
Mr. Jackson Elias
co Prospero House Publishers
Lexington Avenue, New York City
Dear Mr. Elias,
The book about which you inquired is no longer in our collection.  The information you seek may be found here in other volumes.  If you will contact me upon arrival, I will be most happy to further assist you.
As Always,
Miriam Atwright (signature)
Miriam Atwright
Ad blocker interference detected!
Wikia is a free-to-use site that makes money from advertising. We have a modified experience for viewers using ad blockers

Wikia is not accessible if you've made further modifications. Remove the custom ad blocker rule(s) and the page will load as expected.